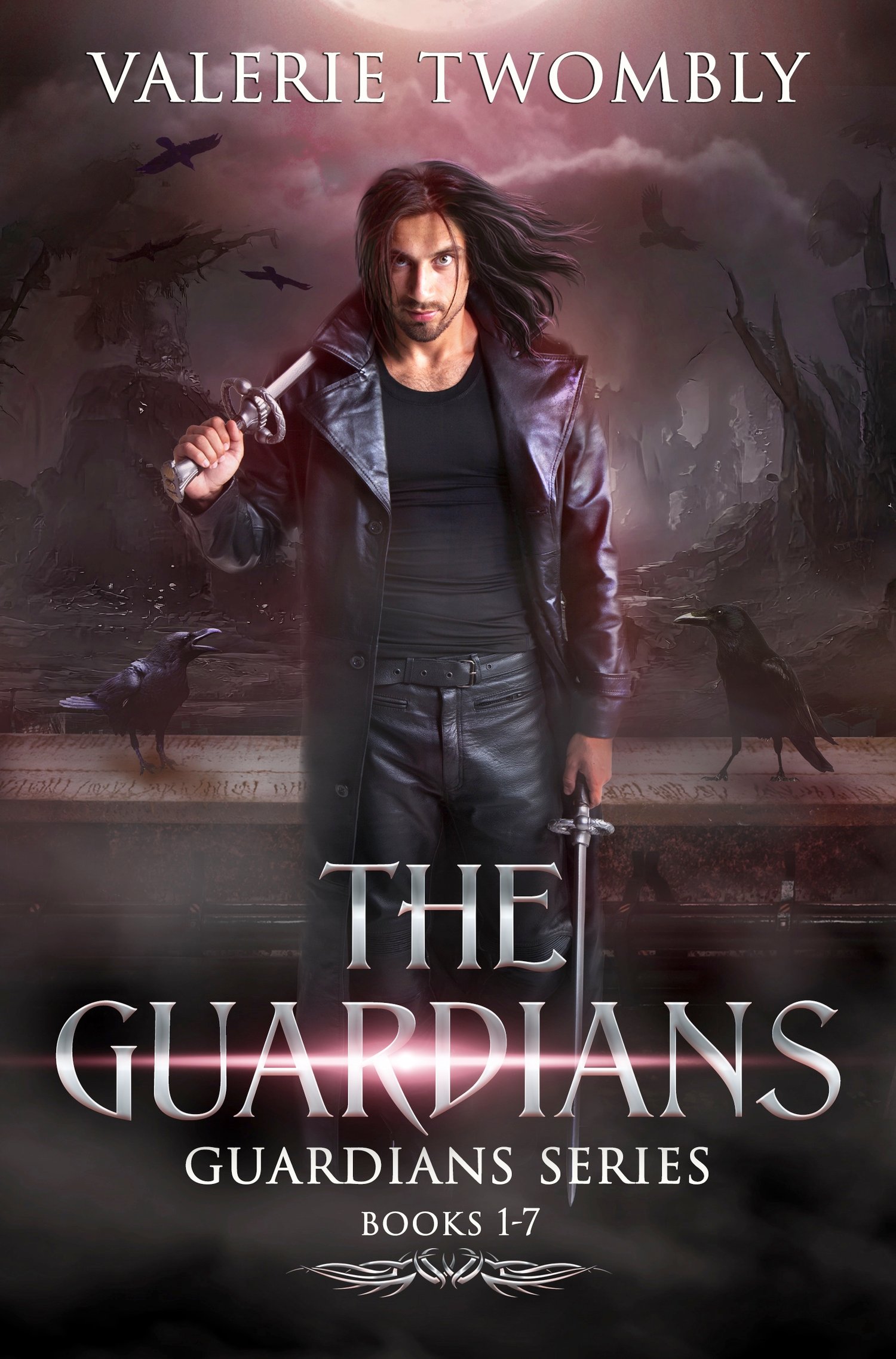 The Guardians Boxset 1-7
On Sale
Vampire's Mate:

After losing the woman he loved in a demonic war, Marcus is content to live out his immortal days serving his king and waiting for a curse to claim his soul. When the vampire learns the Gods have stepped in and given him another chance, he might embrace it except she is human, and he is in no mood to explain his fangs.

Left at the altar, Cassandra swears off all relationships. But when a sexy stranger who has been interrupting her sleep shows up for real, she is catapulted into a reality she never imagined existed.

Something evil is coming to claim Marcus. Cassie isn't ready for what being his mate means until his life is threatened. To protect him she must become immortal. Refusing may cost her even more.

Dragon's Fate:

One touch will prove fatal.

Caleb is dark, hot, and commanding in human form. As a dragon, he's a force to be reckoned with. When he witnesses the slave Lileta being beaten by his Overlord Odage, he nearly comes unglued. Without understanding why, he asks to take Lileta as his own, but soon realizes his longing is more than an attraction to a beautiful woman. In a sick twist of fate, the gods have given him a demon as his mate—one he can never touch unless he wishes his own death. His only choice is to grant her freedom.

Abducted as a teen, and later purchased by a dragon Overlord, Lileta's venomous touch remains her only safeguard as a slave. When the demon's rebellious nature brings about a brutal punishment, Caleb steps in and takes her as his own. As if having the sexy dragon save the day isn't bad enough, she soon realizes they are destined to be together.

Mating is out of the question. The abduction of a goddess intertwines their paths once again, spiraling them to the brink of passion. Unable to resist their fatal desire, the two must trust fate and hope they don't destroy each other.

Vampire's Kiss:

He's no guardian angel.

Being the first vampire Guardian ever created, Seth Ruiz struggles with his identity. While his sanity balances on a razor's edge, it's only a matter of time before he succumbs to the evil inside him. When realization strikes that the fiery Kaitlyn belongs to him, he must not only battle his past demons, but fight his desire to claim her or chance killing them both.

She's a demon slayer.

Handed a dagger as a child, Kaitlyn O'Hara has slaughtered demons her entire life. It should come as no surprise that she is also destined to save a crazy vampire. When fate reveals her true identity, she must search her heart for the courage to move forward.

Katie holds the key to help save humanity. With Seth's dark side edging closer, he prays he can keep it together long enough to protect her through the challenges she must face. However, he could prove to be her biggest threat.

He fights his desire to claim her. She battles to save him. Together they wage war to protect humanity. Survival may come at a price.

Demon's Destiny:

Famed for his cocky attitude and womanizing lifestyle, Baal likes to make his own rules. But being the most powerful demon in Hades' army comes with a steep price. Namely, a command to mate with the human he is bound to protect. When the lord of the Underworld reveals the female's true identity, Baal vows he will never love her. Even though she may destroy him, he soon discovers it's a promise he might not be able to keep.

When her sibling goes missing, Ranata finds herself at the mercy of those who intend to make her Hell's next sacrifice. With the world embraced in the wrath of a power-hungry demigod, and a sister now in his clutches, she discovers she is not fully human and now must face the biggest challenge of her life. Mating a demon is an insane idea, but she will do anything to save her sister. Falling in love with him might be even crazier.

Hades:

Being the lord of dark, terrifying things makes Hades the most feared god in existence. He's also the most bored. When the guardians request his assistance, he is quick to grant it and make his way to the human realm. After all, creating havoc is what he does best. When his path crosses with a beautiful female, he finds her honesty refreshing, making his desire burn hotter. It's when she summons him for a favor that he will finally get to name his terms.

When tall, dark and oh-so-sexy walks into her store, Mia suddenly finds herself marked by a god. Saddled with a curse that rips her world apart on a nightly basis, she decides bargaining with Hades to remove it might prove beneficial. Of course, requesting a favor from the lord of the Underworld comes with a huge price. Namely thirty days in Hell as his guest.

Hades is only out for some fun, but Mia isn't playing his games. She intends to get through her agreement despite the yearning she feels for him. Problem is, the longer they are together the more she begins to see beyond the lord of evil to the troubled man beneath. Now she must decide if he is worthy of the only thing she has left to give.

Vampire's Desire:

He does not trust her…

Lucan has one chance to save himself before the darkness he wields consumes him. The vampire would rather damn his soul to Hell, than mate his enemy's sister. Fate hasn't left him much choice however, because it prophesies Sabin to end the brutal war on humanity. The longer he waits, the further into the shadows he slips and the closer they all come to being destroyed.

She will betray him…

Sabin experiences daily torture ever since her brother locked her in his hellish dungeon. The only thing that keeps her sane, is the knowledge there is one vampire destined to save her. Even when Lucan rejects the idea they could ever become mated, she knows the fate of the world depends on them being together.

He is darkness; she is light, yet they need each other to survive. Evil is preparing to destroy Sabin, and with each passing second the enemy grows stronger. Time is running out and with the Phoenix God missing, Sabin cannot fulfill the prophesy. There may be only one sacrifice left to make.

Vampire's Queen:

The phoenix has risen.

His awakening would end the reign of terror. But when the vampire king returns as the phoenix God, things don't go as planned. With an evil demigod still loose, Aidyn must track him down and end him for good. Except, being a God now means he has to play by the rules. Ones that specify no killing their own. The phoenix may have to obey, but the vampire does not and Aidyn will do anything to protect his mate.

The dragon rebels.

There's a thin line between love and hate and it's one Leria walks often. Since the day she pleaded with the vampire king to spare her father's life, she has been in love with a man she scorns. Ending his life didn't make her feel any better. Matter of fact, things become complicated when he comes back as the long-awaited phoenix God and more determined than ever to claim what belongs to him. When she learns about his little secret, it's one more nail in their fated coffin, and she can no longer accept his deception.

A dragon and a phoenix should be the perfect match.

He has loved her since the day she was born, but in his attempts to keep his future queen safe, Aidyn has pushed Leria straight into the arms of the enemy. Now, she's in danger and he has to make a choice. Saving her might cost the life of her dragon. Letting her go will mean an eternity without her.